5 Things NOT to Do On Your First Day at PaperbackSwap.com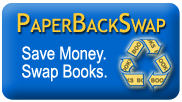 Writers read. A LOT in many cases. Our love of reading is often the push that starts us writing. But with all the economic woes in the world today, many people are finding it necessary to cut expenses. And that sometimes means that there is less money for buying books.
If you haven't heard of it yet, PaperbackSwap.com is a great alternative to buying new books. You list the books you want to get rid of and get credits to spend on "buying" someone else's books. You pay only postage to ship your books to a requester and you receive books you request for free.
I signed up for it last Saturday and let me share with you my hard-earned wisdom on what NOT to do on PaperbackSwap.
Do not list 78 books immediately after you first sign up. This way lies MADNESS. Listing so many books greatly increases the chance that some of your books will be on other people's wish lists and you will get bombarded with requests that you must fill promptly. Wrapping books for four hours and then hauling all 24 to the post office is not something you want to do, especially if half of them are hardbacks. Trust me on this.

INSTEAD: Start with 10. 10 books is enough to get you 2 credits to spend on 2 books. Then add books in blocks of 10 every few days. This will keep the flow of requests manageable.

Don't wait to get your packaging supplies until after you sign up. You don't want to make two or more trips to Staples (or your local office supply shop) in one night.

INSTEAD: Stock up on 2″ wide clear packing tape, bubble mailers, if you want to go the easy route, and find your scissors.

Don't think that you'll save money by taking the books to the post office and using the automated machine to weigh and buy postage. Those Automated Postal Center machines don't have a setting for Media Mail and you'll end up spending twice as much on Parcel Post pricing.

Addendum to Tip 3: Don't waste your time standing in line to have the postal clerk weigh the book and apply postage.

INSTEAD: Buy postage and Delivery Confirmation service through PBS for only 43 cents per package. You can print out the mailing label, slap it on the package and drop the book in your mailbox for your carrier to pick up. Your time is worth a lot more than 43 cents, trust me.

Don't assume you must buy a postal scale to be sure the weight of the books is 100% accurate. Unless you really want to buy a postal scale just to have one in your home as a symbol of your Uber Writer status.

INSTEAD: Go with the estimated weight that PBS provides. It was pretty accurate on most of my books. (If you do decide to buy a postal scale, get a mechanical one that weighs up to 5 pounds. They were around $30 at Staples. Not that I bought one myself, you know, and then had to take it back because there were pieces rattling inside that shouldn't rattle. Nope, not saying that at all.)

Don't spend all your credits at once. If you have an item on your wish list and it becomes available, you have only 48 hours to confirm that you have credits available to get that book. If you don't have credits available, the book goes to the next person who wants it.

INSTEAD: Hold one or two credits back as long as you have items on your wish list. If you don't use the wish list, feel free to spend them all.
And there it is… 5 tips to make your PBS experience blissful and pain-free. For the most part.
Honestly, give PBS a try. You can get books for $2-3 each and send your unneeded books to a good home. It's green-friendly and a great way to check out new authors for less money.
If you do sign up on PBS, add me to your Buddy List. My user name is cccorbin. And if you feel so inclined, you can list me as your referrer. It gets me a credit for each referral and you get the joy and delight of helping out a favorite writer. And the Muse Fairy of All Writing Knowledge will bestow fantastic plots and unforgettable characters on your novel.*
*Not a guarantee of service. Some restrictions may apply.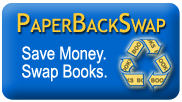 Like this post? Subscribe to my RSS feed and get loads more!